Mobile Manhole Cover Remover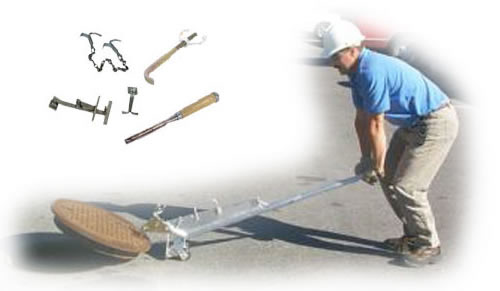 The Mobile Manhole Cover and Grate Removers are specially designed to make manhole cover and grate removal safe and easy. The cover and grate remover uses leverage to lift heavy manhole covers, catch basins and sewer grates. It is lightweight aluminum and one person portable. Single person operation. This Manhole Cover and Grate lifter is adjustable for various size covers. Many attachments are also available for the various manhole cover designs. Now taking orders for shipment. Note to Mfg recommended capacities. All are rated at 500 lbs Lifting capacity. Mfg also recommends loosing the manhole cover first from dirt and rust build up. Lifters not intended to be used as to brake free sealed, welded or obstructed edge covers.
Magnets: Select larger Magnet capacities for non flush or raised surface manhole covers. Standard Magnets designed for even surface manhole covers. When on the job and lifting covers, it is important to remember to knock the covers loose with a sledgehammer before lifting them. The Manhole Magnets are very powerful, however they are designed to lift the covers, not knock them loose.
Lifting Ratios may vary. Effort Index 4.25 to one.
It takes 70 lbs of down force to lift 300 lbs capacity.
Customer Quote: "It Beats Pullen It By Hand ! It Works.....
* applies only with in continental U.S.
Model 18 MCH

Manual

Human
Capacity

18" Manhole Cover Hook
D-Ring Handle
OAL 18" nominal
Weight: 3 lbs

3 Lbs

$47

Model 26.5 MCH

Manual

Human
Capacity

26.5" Manhole Cover Hook
D-Ring Handle" 5.25" Wide
OAL 24.25 " nominal
Steel: 5/8" Thick Bar
Weight: 3.25 lbs

3.25 lbs

$51

Model 36 MCH

Manual

Human
Capacity

36" Manhole Cover Hook
D-Ring: 5.25" Wide
OAL 35" nominal
Steel: 5.25" Thick Bar
Weight: 4.25 lbs

4.25 Lbs

$81
Prices subject to change without notice. Minimum order is $135
Copyright © 2003 - 2016 All Rights Reserved: Construction And Rigging Supply, Inc.
1427 Los Angeles Avenue, Ventura, CA 93004 | 805-647-4792 Office | 805-256-6477 Fax